About VeggieConnection.com
VeggieConnection.com is run not-for-profit via the generous support of volunteers and financial subsidies of founder Ken.
VeggieConnection.com has never paid a salary since its inception; 100% of VeggieConnection.com income go towards expenses.
About our Founder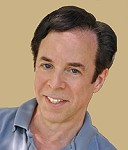 VeggieConnection.com was founded by Ken, Silicon Valley entrepreneur, vegetarian of over 40 years, and vegan for over 10 years.
Ken lives in the San Francisco Bay area and has been a promoter of vegetarianism most of his adult life. In addition to founding VeggieConnection.com, Ken was a founding member of the San Francisco Bay Area Chapter of EarthSave. Ken is a frequent participant of vegetarian causes, and has been a regular with local vegetarian groups.
Ken thought it would be of great benefit to other vegetarians if he brought his web skills to the veggie world and developed VeggieConnection.com, a place for vegetarians to find friends and romance. Ken is honored to be awarded the "Top site to find a Veggie Mate" award by VegNews Magazine.
Help us Grow
Become a yearly subscribing member if you're not already.
Click the social networking links below (Facebook, Twitter, etc.).
Share your thoughts about VeggieConnection.com with your friends.
In the News
Read an
Article about VeggieConnection.com at DatingAdvice.com