The Credentials Gallery was added as a means to verify your authenticity (verify your gender, age, and location), professional training, degrees, credentials, and even vaccination status. Members may upload document images, in the same manner as Photos. (See Uploading Photos below.)
Credentials fall into one of these categories:
Credential Type
Document(s)
Minimum Details
Identity
Drivers License
Passport

Your full name, photo, city/state (if one)/country, birth year (day/month not required), document issuance date, document expiration date if one. We suggest that you block out the document ID number, your social security or similar number, your signature, your birthday day/month, and your street address. See sample to the right.
Professional
Diploma
Certificate of Completion
Student Transcript


Your full name, organization name, topic of study, authorizing signature, and issuance date.
General
Business Card
Vaccination Card

Your full name, and, if relevant, the issuance date. A vaccination card should show the card front with your name and doses, not the back, reminder portion, of the card.
Requesting Credentials
In a member's detailed profile, click the button
Request Credentials
near the bottom of their
Personal Information
section.
Sharing Credentials
Following an Identity Credential upload, our staff will verify your account. For your privacy, sharing your Identity Credential with fellow members is not required to verify your account.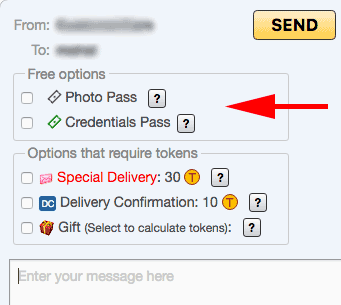 Credential Gallery images will be visible only to recipients to whom you send a Credentials Pass via an e-mail (but not greetings) †. Recipients who receive your Credentials Pass will see at the top of the message you've sent:
Credentials Pass - View My Credentials